Advancing equitable access to high-quality parks
THE PROJECT
Open space as a platform for citizen engagement
Due to racial residential segregation and histories of exclusion, park and recreation leaders face barriers to building trust and ensuring visitorship reflects city diversity. As they spearhead engagement efforts, local leaders are reversing the trend.
Through a training series and IHP Companion Guide, the National Recreation and Park Association (NRPA) has worked with two parks departments to better understand and respond to local needs in park design processes. The City of Perris, CA used the framework to surface residents' health behaviors and mobility patterns as it redesigns Copper Creek Park. In Crawford County, AR, City leaders used the framework to center historically marginalized residents in an evaluation of Diamond Park. These "community scientists" shared observations and input via QR codes, texts, voicemails, emails, and a mobile app.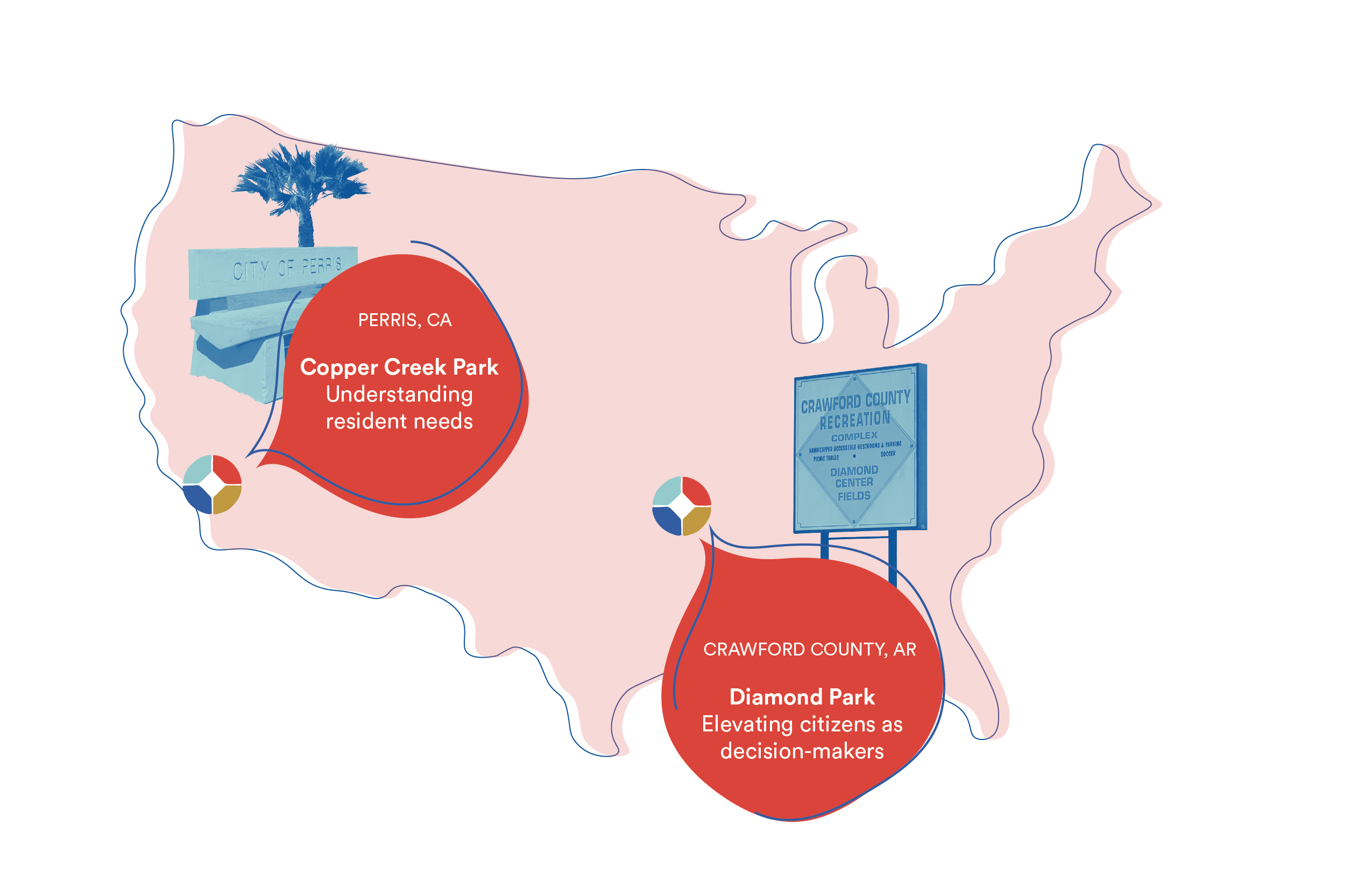 NRPA + IHP
How the Framework is guiding NRPA and partner projects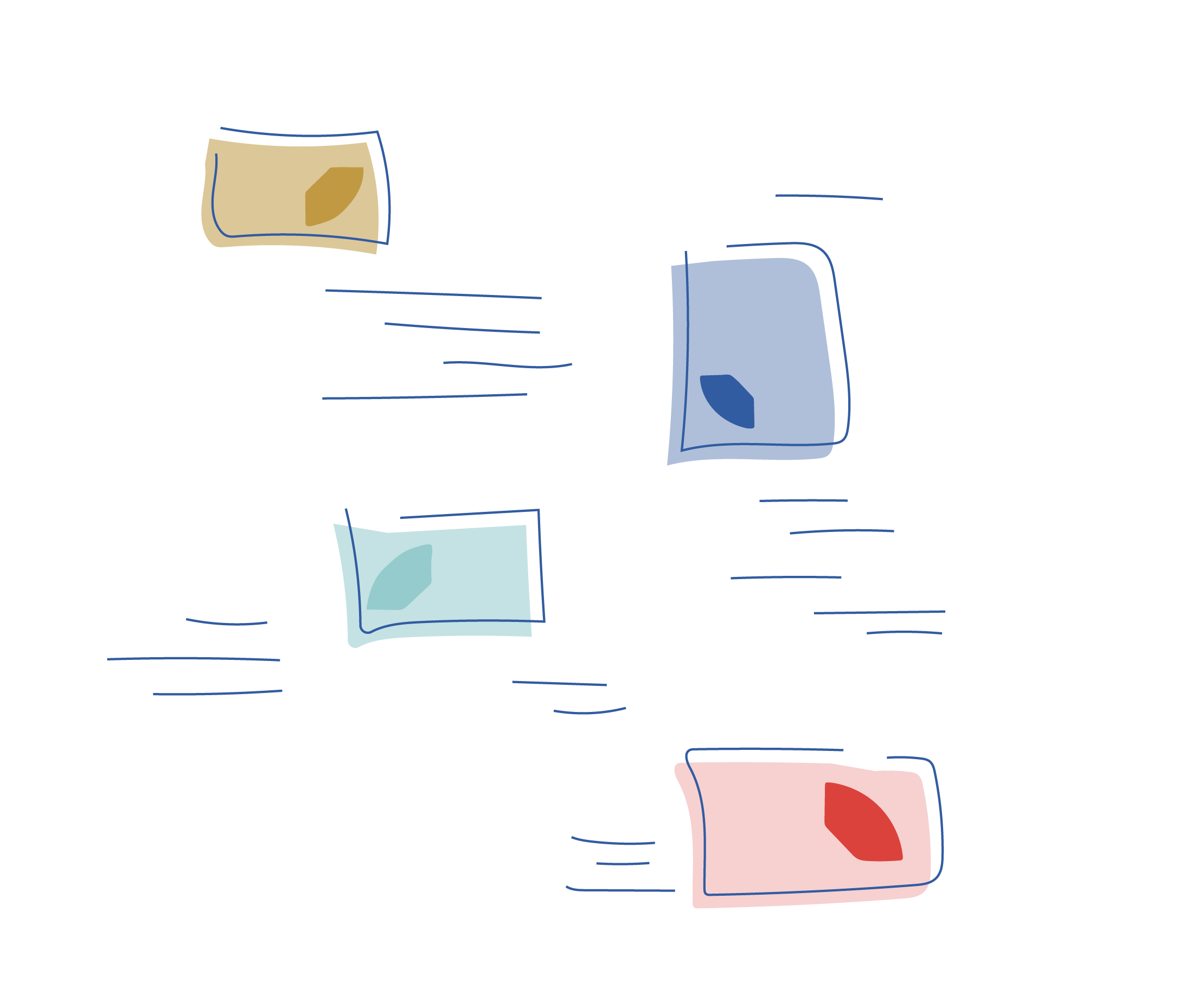 PERRIS, CA · COPPER CREEK PARK
Understanding resident needs
Created a targeted set of questions for data collection to limit survey fatigue and improve understanding of resident park use and health patterns
Held programming with local organizations to invite resident visits and solicit feedback on the park concept design
Launched a park ambassador program to represent the City in the park, support maintenance, and invite resident engagement
CRAWFORD COUNTY, AR · DIAMOND PARK
Elevating citizens as decision-makers
Deferred to the historically marginalized, disenfranchised, and isolated as decision-makers in the park planning process
Recruited a diverse slate of "community scientists" to collect data and increase public awareness of the project
Invited residents to record park observations with photos, comments, and emojis to set design priorities
IN FOCUS
Copper Creek Park
Perris, CA is a fast-growing, majority-Latino city in Southern California with growing demand for green space. As Copper Creek Park — the second-largest park in the City's network — undergoes a concept design process, leaders of the City of Perris's cross-functional Community Services Department are working to better understand and respond to resident needs.
Understanding park usage
City leaders knew some residents were hesitant to visit the park because it lacked basic amenities and invitations to spend time. Providing free programming has been a way to draw in new visitors and show how the space can meet their needs. For example, in Copper Creek Park, the City has worked with well-connected local organizations to boost visitorship through programming (e.g., yoga in the park). Pairing this programming with community engagement activities has created a more accessible path to participation in the design process — especially compared to typical community meetings. After successfully broadening their reach with this approach, City leaders now plan to pair engagement with programming in other parks.
Data as an advocacy tool
Part of the engagement process meant deciding what data not to collect from residents. By being selective with their questions, City officials didn't burden residents with unwieldy surveys, and surfaced findings that would be most constructive to their process. What followed were insights — such as data around resident health behaviors and mobility patterns — that helped sharpen their plan for park design features and neighborhood access. These same insights were effective as a storytelling and advocacy tool (link to report here). First, they helped to gain sign-off from the City's Parks & Recreation Committee for the engagement and design process. In March 2022, the findings also bolstered a successful application for $2.8 million in grant funding from the State of California for Copper Creek Park improvements: installation of a new walking path, picnic-shaded tables, a butterfly garden with educational signs, and new public art.
Giving a face to the City
The engagement process revealed that residents feel safer using the park when many more people, amenities, and City staff are present. As a result, City leaders have used a mix of design and operational moves to invite more residents to spend time in the park — lighting, active uses, and amenities (e.g., a futsal court, quality restrooms). They've also hired a cohort of city "park ambassadors" who can greet people and connect them with city services. Compared to police or park rangers, the ambassador model is less enforcing and more approachable for residents. Park ambassadors also serve as a point of contact for ongoing citizen engagement on park design, programming, and operations. This helps ensure the park can be responsive to resident needs over time.
Responsive relationships
City officials showed up consistently and created systems to ensure they responded and came back to citizens who were engaged in the planning process. Ongoing evaluation and monitoring — a central tenet of the Framework — holds the City accountable to healthy, equitable outcomes. What's more, it also builds civic trust among residents. For example, when residents saw the City engaged, visible, and present in the parks, they were also more likely to participate in programming and volunteering (e.g., youth cleanup activities).
Take a visit to Perris and hear the story of Copper Creek Park from local leaders.
Target data collection toward community goals. Be selective in metrics / methods used for data collection to ensure the 'right' and 'right quantity' of data can steer the design process.
The City of Perris's Community Services Department used the metrics from the Framework to focus its data collection — specifically, collecting data on the multigenerational use of the park, residents' health behaviors, and ways people traveled to and from the park. "The framework allowed us to collect specific data that we want. I think it also made us realize that we couldn't collect it all," said Emmanuel Marquez, Project Coordinator for the City of Perris.
Use data as an advocacy tool. Tell data-driven stories to build support for community-based public space projects among leadership and essential partners.
The data that the City of Perris collected helped it tell more nuanced, human stories about resident needs in Copper Creek Park. These insights helped build buy-in with the City's Parks and Recreation Committee, and secure $2.8 million in funding from the State of California's Clean California Grant.
Hire local leaders. When residents crave City staff in their parks for safety or other reasons, explore policing alternatives to serve as the face of the City.
When Perris, CA residents shared that they felt more comfortable visiting parks knowing there was City presence, officials did not respond by increasing the number of police in parks. Instead, they established a corps of "community ambassadors" who could serve as a friendly face and connector to City services. "We wanted the ambassadors to come out and build that connection and rapport with residents visiting our parks," said Arcenio Ramirez, Interim Assistant Director of Community Services for the City of Perris.
Make citizens decision-makers. Invite local residents — especially those historically marginalized from city processes — to collect data and guide decision-making on park design processes.
Crawford County, AR recruited "community scientists" to collect data and increase public knowledge of the Diamond Park project. Methods included the Discover Tool app on a smartphone, through which residents could record observations with photos, comments, and emojis.
Evaluation sometimes falls by the wayside because parks leaders are so busy and strapped for cash. How do we make evaluation more accessible? One of our biggest goals is to help them advocate to get more money to do this work.
DARCI SCHOFIELD · FORMER SENIOR PROGRAM MANAGER · NRPA
The mission of the project is to provide the historically marginalized, the disenfranchised, and the isolated the ability to act as the decision makers, to energize cultural diversity, and to activate their collective community power.
CRAWFORD COUNTY
The Framework allowed us to be more creative. In terms of the content and collecting data, it allowed us to view data a little bit differently — not just collecting demographics, but actually meaningful data, qualitative versus quantitative.
CRYSTAL LOPEZ · PUBLIC HEALTH SUPERVISOR · CITY OF PERRIS