Working hand in hand to improve community well-being
THE PROJECT
Open space as a foundation for community safety
By laying a foundation for community connection, trust, and belonging, open spaces are a key ingredient in building neighborhood power and well-being — and can serve as an alternative to policing in improving public safety.
A national intermediary supporting community-based projects, Local Initiative Support Corporation's (LISC) Safety and Justice Initiative supported a group of community-based organizations as they undertook public space planning processes. In Washington, D.C., LISC introduced the Framework to guide the engagement process and build trust among local leaders at The Well at Oxon Run — an urban farm and wellness space operated by DC Greens. In Houston, LISC introduced the Framework to guide the transformation of a vacant lot into a pocket park, school bus stop, and walkable and bikeable neighborhood connector.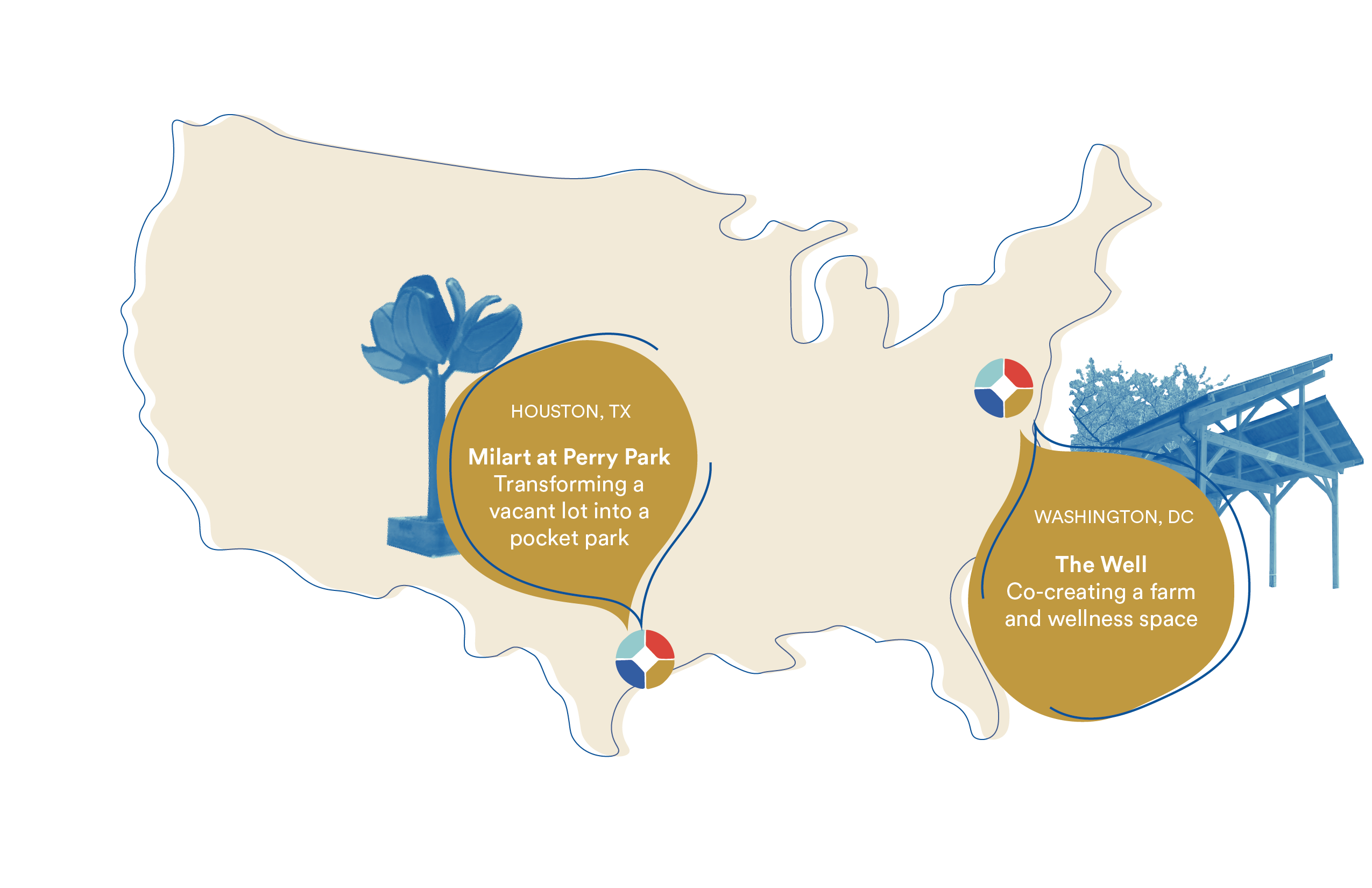 LISC + IHP
How the Framework is guiding LISC and partner projects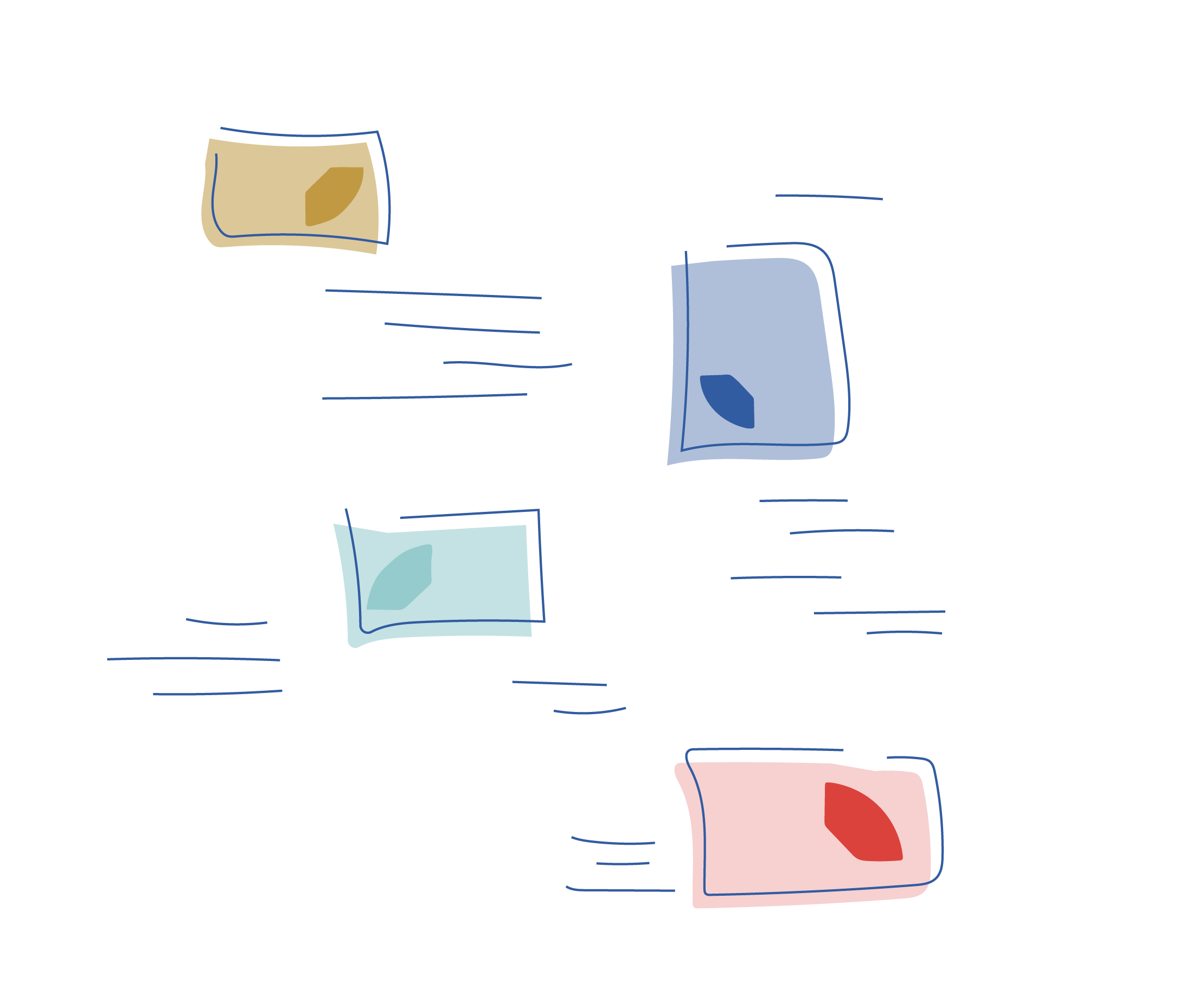 THE WELL AT OXON RUN · WASHINGTON, DC
Co-creating a farm and wellness space
Grounded stakeholders in the history of the Ward 8 community
Built trust and strengthened relationships across organizations
Created a shared language and community-led vision for health, wellness, inclusion, and safety in open space
Secured consistent resources and funding for The Well at the outset of the process
PERRY PARK · HOUSTON, TX
Transforming a vacant lot into a pocket park
Brought together neighborhood organizations charged with creating and stewarding the space
Improved invitations for physical activity on the site for the nearby school, apartments, and churches
Encouraged walking and biking by activating and greening the space, improving perceived safety, and installing a bikeshare
IN FOCUS
The Well at Oxon Run
The Well at Oxon Run is a farm and wellness space in Ward 8, a majority-Black neighborhood in Southeast D.C. While Oxon Run Park is the largest in the District's park inventory and a major public health asset, Ward 8 has some of the highest health disparities in the District — a product of decades of disinvestment, rooted in structural racism. While local organizations had been leading inclusive processes for years, the Framework helped create a shared language and set of solutions around health, equity and public space for community organizations, local government and funders.
Earning trust with locals
As they looked for a new site for their signature farm, DC Greens — a health equity non-profit — saw opportunity in Oxon Run Park based on the area's strong legacy of community organizing and park stewardship. But as a White-led organization, DC Greens' leaders knew they would have to earn trust in this historically Black neighborhood — especially with The Friends of Oxon Run (FOR), the longtime stewards of the park. It took time and consistent engagement to build a partnership. That involved a mix of approaches in recent years: co-creating and leading visioning sessions on-site; distributing produce to local residents during the pandemic; hosting a pumpkin patch and Halloween costume giveaway; and supporting community-based non-profits as they advanced their own work (e.g., a sisterhood supper to celebrate Black women and the ways they had come together to feed the community in hard times; local youth engagement with the environment). Eventually, DC Greens also hired a local resident, Jaren Hill Lockridge, to serve as the Director of The Well.
Amplifying local assets
As it worked alongside local residents and leaders, DC Greens knew the stakes: Ward 8 experiences disparately low health outcomes rooted in longtime discrimination and disinvestment. But the organization's leaders also took time to understand the neighborhood assets that have endured in spite of this history. To shape as high-impact a vision as possible, DC Greens brought in local expertise, made sure not to duplicate features that existed elsewhere in the park, and built partnerships with community groups who could be programming partners (e.g., Soul of the City, The Green Scheme, Friends of Oxon Run).
Thinking bigger than food
As a food-centered organization, DC Greens had set out to create an urban farm in Oxon Run. During the community engagement process, residents made it clear that they wanted more than just a farm — they wanted a setting for intergenerational storytelling, environmental stewardship, and arts programming. These programs are now coming to life through partnerships with local historians for an oral history project, with the DC Department of Energy & Environment for the restoration of nearby Oxon Creek, and with Soul of the City for arts and culture programming. Additionally, the DC Parks & Recreation Department has been involved in the entire process and now sees The Well as a model for inclusive public space development elsewhere in the District.
In it for the long haul
DC Greens is committed to being a steward of The Well in the coming years. That means staying nimble and adaptive. For example, the organization is approaching the first season as a "learning period" to determine what will be needed for the long-term success of the project. With lessons learned from a pilot year, DC Greens is committed to raising the funds and hiring the necessary staff — whether social workers or horticulturists — to serve community needs for generations to come.
Take a visit to The Great Ward 8 and hear the story of The Well from local leaders.
As a result of this project and the intentional approach to inclusive placemaking, there will be a generation that grows up in these neighborhoods who will have memories of community connectedness in this space. It has already begun and we haven't even put shovel to dirt yet. But the Framework makes it clear that the work starts well before construction.
LAUREN SHWEDER · DC GREENS, LISC PARTNER
Local partners see this project as a "trust-building measure." The Framework serves as a convening tool for partners to coalesce around.
LEVAR MICHAEL · SENIOR PROGRAM OFFICER · LISC
The Framework was a real eye opener. This was he first time that we sat down and worked our way through a process that would help us identify problems and then work with the community to offer solutions to the problems.
ABSALOM JORDAN · CHAIR · FRIENDS OF OXON RUN
We find value in utilizing this Framework as a resource. We have incorporated it into most aspects of our local work.
LAUREN SHWEDER · DC GREENS, LISC PARTNER